Places To Visit in Hawaii
Hawaii, a U.S. state, is an isolated volcanic archipelago in the Central Pacific. Its islands are renowned for their rugged landscapes of cliffs, waterfalls, tropical foliage and beaches with gold, red, black and even green sands. Of the 6 main islands, Oahu has Hawaii's biggest city and capital, Honolulu, home to crescent Waikiki Beach and Pearl Harbor's WWII memorials.Popular Destinations are Hawaii Island, Oahu, Honolulu, Kauai, Maui, Molokai, Lanai and Wailea-Makena.
Choose your destinations, duration and Submit the Travel Enquiry form. We will create a customised Hawaii Tour Package for you.
Hawaii Island
The Big Island (officially named Hawaii) is the largest island in the United States Hawaiian archipelago in the Central Pacific. Its diverse terrain spans colored-sand beaches at Papakolea (green) and Punalu (black) to lush rainforest. Within Volcanoes National Park, there are 2 active volcanoes, Kilauea and Mauna Loa. Hapuna Beach and Kahalu'u Beach Park in the west are popular snorkeling sites.
The island's lush, wet eastern side has rainforest, the port town of Hilo, Hawaii Tropical Botanic Garden and Akaka Falls State Park. Western conditions are dry. There, high-end resorts dot the Kohala Coast, and the Kona region is home to coffee plantations. To the north is Waimea cattle country, at the base of massive, dormant Mauna Kea, and remote Waipio Valley is a major hiking spot. Cultural sites include Puako Petroglyph Archaeological Preserve, with lava-rock carvings, and Pu'uhonua o Hōnaunau, a sacred burial ground and traditional place of refuge.
Oahu
Oahu is a U.S. island in the Central Pacific, part of the Hawaiian island chain and home to the state capital, Honolulu. Highlights of the city include historic Chinatown and the Punchbowl, a crater-turned-cemetery. Waikiki is an iconic beach, dining and nightlife area. West of Honolulu is Pearl Harbor, site of the WWII's 1941 bombing attack and home to the USS Arizona Memorial.
Beyond Honolulu, Oahu's landscape includes rainforests, steep ridges, waterfalls and pineapple and sugarcane fields. Ringing the island are scenic villages and beaches such as Hanauma Bay, Kailua Beach, Makaha Beach and Waimea Bay. The North Shore is a quiet, laid-back area where visitors can sample a Hawaiian plate lunch and some shave ice before hitting one of its prime surfing and snorkeling spots. Other popular pastimes are golf, boating and hiking, with scenic trails at Diamond Head crater, Manoa Falls and Kaena Point, Oahu's westernmost tip.
Honolulu
Honolulu, on the island of Oahu's south shore, is capital of Hawaii and gateway to the U.S. island chain. The Waikiki neighborhood is its center for dining, nightlife and shopping, famed for its iconic crescent beach backed by palms and high-rise hotels, with volcanic Diamond Head crater looming in the distance. Sites relating to the World War II attack on Pearl Harbor include the USS Arizona Memorial.
The Ala Moana district has a popular beach with calm water and the huge Ala Moana Center shopping complex. Downtown is the Hawaii State Capitol building and Iolani Palace, once home to Hawaiian royalty (now a museum). The Bernice Pauahi Bishop Museum and Hawaii State Art Museum showcase local culture, and the city's historic Chinatown is also part of the Arts District. Honolulu also contains small pockets of rainforest, canyons, waterfalls and beaches with coral reefs. The Punchbowl is a crater-turned-cemetery.
Kauai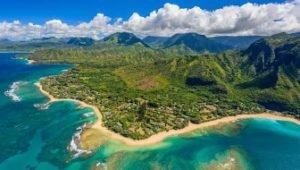 Kauai is an island in the Central Pacific, part of the Hawaiian archipelago. It's nicknamed "the Garden Isle" thanks to the tropical rainforest covering much of its surface. The dramatic cliffs and pinnacles of its Na Pali Coast have served as a backdrop for major Hollywood films, while 10-mile-long Waimea Canyon and the Nounou Trails traversing the Sleeping Giant mountain ridge are hiking destinations.
Popular beaches include Poipu and half-moon Hanalei Bay as well as Ke'e, whose offshore reefs offer snorkeling and scuba diving. Humpback whale-watching is a wintertime draw, while the National Tropical Botanical Garden (really 3 separate preserves) showcases diverse native plants. Upscale resorts offer fine dining, spas and golf. Zip-lining and helicopter tours are adventuresome options. Hawaii's culinary specialties – often served at traditional luau feasts – include roast kalua pig and "poi" (mashed taro), while shave ice is a signature dessert.
Maui
Maui is an island in the Central Pacific, part of the Hawaiian archipelago. Sprawling Haleakala National Park encompasses the island's highest peak, volcanic Haleakala, as well as the pools and waterfalls of Ohe'o Gulch, accessed via scenic, winding Hana Highway. The island's 30 miles of beaches include golden-crescent Kapalua, sheltered from strong currents by lava-rock promontories.
Some other well known beaches are Kaanapali, famed for its daily sunset cliff-diving ceremony, and Ho'okipa, a renowned windsurfing destination. Laid-back upcountry Maui is home to farms and ranches, while a wide range of resorts along the coast offer championship golf courses, spas and island-inspired dining. Three miles off the coast, the half-moon, partially submerged Molokini crater lures snorkelers and divers with colorful fish species. Tropical Iao Valley, in the West Maui Mountains, offers hiking trails, waterfalls and swimming holes.
Molokai
Molokai is a Hawaiian island in the central Pacific. On the island's northern Kalaupapa Peninsula is a steep path leading to Kalaupapa National Historical Park, an isolated former leper colony below towering cliffs. The site can also be viewed from the clifftop Kalaupapa Lookout in Palaau State Park. Nearby, the park's Phallic Rock is said to have fertility powers.
In the mountainous Kamakou Preserve is the Pepeopae Trail, which has a narrow boardwalk through dense rainforest. The preserve also shelters native birds like amakihi. Nearby, the Waikolu Valley Lookout has views of towering waterfalls. The Moomomi Preserve has long stretches of beach and green sea turtle nesting habitats. Near the town of Kaunakakai is the Kapuaiwa Coconut Grove, with hundreds of coconut trees planted in the 1860s. Nearby Church Row consists of 7 churches of different denominations, remnants of the region's missionary past. In the southeast, Murphy Beach has snorkeling sites and reefs with butterfly fish.
Lanai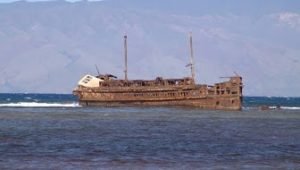 Lanai is one of the islands comprising the U.S. state of Hawaii, in the Pacific Ocean. On its northern side is Shipwreck Beach, known for its offshore wreck of a WWII tanker, plus views of Molokai and Maui islands. In the northwest, long, secluded Polihua Beach attracts green turtles. Humpback whales sometimes appear past its shoreline. Inland is the Garden of the Gods, a lunar landscape of rock towers and boulders.
At the island's center is Lanai City. The former pineapple-plantation village has pastel, tin-roofed cottages and tropical gardens with banana and papaya trees. Galleries and shops surround Dole Park, with its clusters of tall pines. Nearby is the Munro Trail, named after George Munro, a 19th-century naturalist who planted the island's first Cook pine trees. The trail winds through rainforests and climbs to the peak of the towering inactive Lanaihale Volcano for panoramic archipelago views. On the south coast are the beach and tidal pools of Hulopoe Bay. Nearby, massive Sweetheart Rock rises from the sea.
Wailea-Makena
Known for its five beautiful, crescent-shaped beaches and stellar golf courses, Wailea is a luxurious resort community in South Maui that spans 1,500 acres of land with staggering ocean views. The area exudes a sense of privacy, serenity and freedom spread across an area three times the size of Waikiki.Black Sand Beach is the least know of the Makena State Park beaches. It is rarely visited because of its limited access. That's one way to keep at least one part of Makena pristine.