Places To Visit in Uttarakhand
Uttarakhand - Devbhoomi, the home of Himalayas and truly a paradise on earth, allures everyone from everywhere. The fresh air, the pure water, the chilling snow, the adverting mountains, the scenic beauty, the small villages, the simpler people and a tougher lifestyle is what that distinguishes Uttarakhand from rest of the world.Uttarakhand is a 'paradise' for nature lover's and adventure sports like river rafting, trekking, paragliding, corbett jungle Jeep safari, enthusiasts. The main destinations are Mussoorie, Nainital, Valley of flowers National Park, Rishikesh, Haridwar, Char Dham (Badrinath, Kedarinath, Gangotri, Yamunotri), Rudraprayag, Devprayag & Jyotirmath
Choose your destinations, duration and Submit the Travel Enquiry form. We will get back to you with your customised Uttarakhand Tour Package
Nainital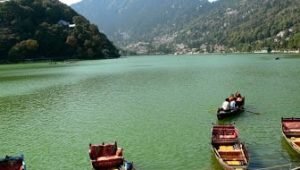 Nainital Lake, famously known as Naini Lake is the major attraction of Naintal town as well of Uttarakhand and Nainital Zoo is one of the best attraction for wildlife lovers in Nainital.Cable car or Aerial rope-way is a major attraction in Nainital, which draws hundres of tourists each day who wants to enjoy the breathtaking views.Eco Cave Gardens is a newly developed tourist spot in Nainital.A popular picnic spot in Nainital, Tiffin Top (also known as Dorothy's Seat) is located on Ayarpatta hill, offers a magnificent 360 degree view.The Mall is a most popular name in Nainital city. A busiest road in day time, The Mall runs side by side of the Nainital Lake.Naina Peak is highest hill top and one of the the famous tourist spots in Nainital.
Mussoorie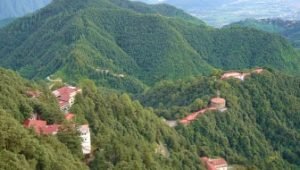 A historical and second highest peak of Mussoorie, Gun Hill is favourite place for viewing picturesque Himalayan range and Doon Valley.Gigantic Fall with somersault of the streams before hitting the bottom, Kempty Falls is the most popular and one of the oldest tourist spot near Mussoorie.A beautiful peaceful walk under the nature will always boost calmness and inner peace. Camel Back Road provides the same experience in Mussoorie.
Valley of Flowers National Park
Valley of Flowers is a vibrant and splendid national park reposing in West Himalayas. Nestled in Uttarakhand, this alluring place is famous for its charming meadows of alpine flowers. Endowed with a diverse range of endemic flora, it is picturesque in its beauty. This lush region is also home to some rare and endangered animal species. You may spot animals like Asiatic black deer, snow leopard, musk deer, red fox, brown bear and blue sheep. High in the lofty Himalayas of the Garhwal region sprawls this enchanting valley.
Rishikesh
Rishikesh is a city in India's northern state of Uttarakhand, in the Himalayan foothills beside the Ganges River. The river is considered holy, and the city is renowned as a center for studying yoga and meditation. Temples and ashrams (centers for spiritual studies) line the eastern bank around Swarg Ashram, a traffic-free, alcohol-free and vegetarian enclave upstream from Rishikesh town
Haridwar
Haridwar is an ancient city and important Hindu pilgrimage site in North India's Uttarakhand state, where the River Ganges exits the Himalayan foothills. The largest of several sacred ghats (bathing steps), Har Ki Pauri hosts a nightly Ganga Aarti (river-worshipping ceremony) in which tiny flickering lamps are floated off the steps. Worshippers fill the city during major festivals including the annual Kanwar Mela
Badrinath
Guarded on either side by the two mountains Nar and Narayan, the Neelkanth Peak provides a splendid backdrop to Badrinath, one of the 'Four Dhams'. One of the most celebrated pilgrim spots in the country, it plays host to the famous Badrinath Temple. Legend has it that Lord Vishnu came to the area, called 'Badri Van', or the berry garden, to meditate after Narad rebuked the Lord for being immersed in worldly pleasures. The main deity is a meditating Lord Vishnu.
Gangotri
There are many Shops which sell prasads and light weight cans to carry water from Gangotri after Darshan .Ganga water is pure and used in poojas or offering in temple. There are Ashrams and few hotels located on the other side of temple for tourists and pilgrims accommodation. Gangorti is the home place of many varieties of flora and fauna. There are several temples in Gangotri where visitors can learn the history behind the creation of Ganga River.
Kedarnath
Kedarnath is flanked by breathtaking snow-capped peaks, making it the most remote site among all four Char Dham sites. But each year the followers of Lord Shiva visit this holy temple. The scenic beauty of Kedarnath town attracts lots of tourists from all over the world. You will find it quite crowded during the summer season (May and June). In the month of April to August thousands of devotees come to visit the Kedarnath Temple. During Winter season , Kedarnath is closed for six month due to Heavy snowfall and Extreme Cold weather.
Yamunotri
Yamunotri is the original source of Yamuna River surrounded by lofty peaks forest and large valley. Yamuna is the second largest and one one holiest river in India after Ganga. It is part of the four holy abodes in Chardham pilgrimage yatra. Pilgrims also get to enjoy a number of hot water springs in the vicinity of the temple.
Rudraprayag
Rudraprayag - Confluence of Alaknanda and Mandakini Rivers.Rudraprayag lies at the confluence of two rivers Alkananda and Mandakini. It is said that Narad was blessed by Lord Shiva in this place and appeared in Rudra avatar. Rudraprayag is one of the Panch Prayags or five confluences of Alaknanda River. Rudraprayag is blessed with nature's bounty, the climate of which depends upon the height of the region.Rudraprayag is best described as the "Abode of Gods" with majestic Himalayas, gushing water of the sacred rivers, and a rich variety of flora and fauna.
Devprayag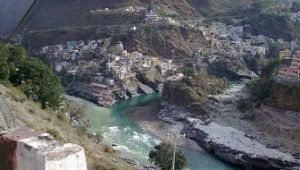 Devprayag is one of the Panch Prayag (heavenly confluences) of sacredrivers in Uttarakhand. Thousands of pilgrims visit Devprayag during theirannual pilgrimage to Char Dham to seek blessings from the Gods. RaghunathTemple is a famous shrine in Devprayag dedicated to Lord Rama. It is believedto be thousands of years old.  
Jyotirmath
Shri Shankracharya Math is a monastry in Joshimath established by Adi Jagatguru Shankaracharya. Famously called as Jyotirmath, Shankaracharya Math is one of the four Mathas (Monastries) established by Adi Jagatguru Shankaracharya and his disciples.Trotakacharya, a disciple of Adi Jagatguru Shankaracharya has established Shankaracharya Math under the supervision of Adi Jagatguru Shankaracharya in 8th century