Places To Visit in Rajasthan
Rajasthan is a northern Indian state bordering Pakistan. Its palaces and forts are reminders of the many kingdoms that historically vied for the region. In its capital, Jaipur (the "Pink City"), are the 18th-century City Palace and Hawa Mahal, a former cloister for royal women, fronted by a 5-story pink-sandstone screen. Amer Fort, atop a nearby hill, was built by a Rajput prince in the early 1600s.Popular Destinations are Jaipur, Ajmer, Pushkar, Udaipur, Jaisalmer, Ranthambore, Jodhpur, Bikaner and Mount Abu.
Choose your destinations, duration and Submit the Travel Enquiry form . We will create a customised Rajasthan Tour Package for you.
Jaipur
Jaipur is the capital of India's Rajasthan state. It evokes the royal family that once ruled the region and that, in 1727, founded what is now called the Old City, or "Pink City" for its trademark building color. At the center of its stately street grid (notable in India) stands the opulent, colonnaded City Palace complex. With gardens, courtyards and museums, part of it is still a royal residence.
Ajmer
Ajmer is a city in the northern Indian state of Rajasthan. South of the city's artificial Ana Sagar Lake is Ajmer Sharif Dargah, the domed shrine of the Muslim Sufi saint Garib Nawaz. Nearby, a 16th-century palace built by the Mughal emperor Akbar now houses the Ajmer Government Museum, displaying armor and stone sculptures. A museum at the Indo-Saracenic–style Mayo College exhibits art and taxidermied birds.
Pushkar
Pushkar is a town bordering the Thar Desert, in the northeastern Indian state of Rajasthan. It's set on Pushkar Lake, a sacred Hindu site with 52 ghats (stone staircases) where pilgrims bathe. The town has hundreds of temples, including 14th-century Jagatpita Brahma Mandir, dedicated to the god of creation, which has a distinctive red spire and walls inlaid with pilgrims' silver coins.
Udaipur
Udaipur, formerly the capital of the Mewar Kingdom, is a city in the western Indian state of Rajasthan. Founded by Maharana Udai Singh II in 1559, it's set around a series of artificial lakes and is known for its lavish royal residences. City Palace, overlooking Lake Pichola, is a monumental complex of 11 palaces, courtyards and gardens, famed for its intricate peacock mosaics.
Jaisalmer
Jaisalmer is a former medieval trading center and princely state in the western Indian state of Rajasthan, in the heart of the Thar Desert. Known as the "Golden City," it's distinguished by its yellow sandstone architecture. Dominating the skyline is Jaisalmer Fort, a sprawling hilltop citadel buttressed by 99 bastions. Behind its massive walls stand the ornate Maharaja's Palace and intricately carved Jain temples.
Mount Abu
Mount Abu is a hill station in western India's Rajasthan state, near the Gujarat border. Set on a high rocky plateau in the Aravalli Range and surrounded by forest, it offers a relatively cool climate and views over the arid plains below. In the center of town, Nakki Lake is a popular spot for boating. Close by are the centuries-old Dilwara Temples, ornately carved from white marble and of great spiritual importance.
Ranthambore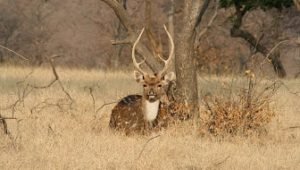 Ranthambore National Park is a vast wildlife reserve near the town of Sawai Madhopur in Rajasthan, northern India. It is a former royal hunting ground and home to tigers, leopards and marsh crocodiles. Its landmarks include the imposing 10th-century Ranthambore Fort, on a hilltop, and the Ganesh Mandir temple. Also in the park, Padam Talao Lake is known for its abundance of water lilies.
Jodhpur
Jodhpur is a city in the Thar Desert of the northwest Indian state of Rajasthan. Its 15th-century Mehrangarh Fort is a former palace that's now a museum, displaying weapons, paintings and elaborate royal palanquins (sedan chairs). Set on on a rocky outcrop, the fort overlooks the walled city, where many buildings are painted the city's iconic shade of blue.
Bikaner
Bikaner is a city in the north Indian state of Rajasthan, east of the border with Pakistan. It's surrounded by the Thar Desert. The city is known for the 16th-century Junagarh Fort, a huge complex of ornate buildings and halls. Within the fort, the Prachina Museum displays traditional textiles and royal portraits. Nearby, the Karni Mata Temple is home to many rats considered sacred by Hindu devotees.