Places To Visit in Indonesia
Indonesia is a kaleidoscope of scenic locales and cultures. Indonesia holidays can be a great idea as it offers a great adventure. Check out the various Indonesia travel packages, and plan your  tour accordingly. These Indonesia vacation packages will give a rough idea about what you can do on your Trip to this palce.
Indonesia tours are abundantly overflowing in different cultures, animals, people, customs, flora and fauna, art and culture, and cuisine. The world's largest archipelago is a tale of continuous adventure. If you don't Travel to Indonesia, you will miss out on its scenic landscapes, the pristine beaches, the turquoise waters and the beauteous islands. Stand on the sandy beaches at Bali to see the fiery golden hued sun set on the tranquil waters and you will experience peace like no other.
Indonesia Holiday Packages also offer a chance to scale some scenic mountains and hike on perilous trails. The grandiose reflected in its artworks and architecture is a revelation. The land is a riot of colors and landscapes, so go get a piece of this huge tourism pie.Popular destinations are Bali, Jakarta, Bandung and Yogyakarta.
Choose your destinations, duration and Submit the Travel Enquiry form. We will create a customised Indonesia Tour Package for you.
Bali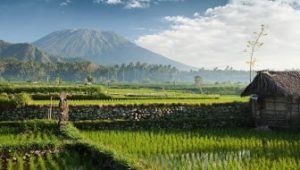 Bali is an Indonesian island known for its forested volcanic mountains, iconic rice paddies, beaches and coral reefs. The island is home to religious sites such as cliffside Uluwatu Temple. To the south, the beachside city of Kuta has lively bars, while Seminyak, Sanur and Nusa Dua are popular resort towns. The island is also known for its yoga and meditation retreats.
The southern tip is also world-renowned for its prime surfing spots such as Padang Padang and Uluwatu. Further inland is Ubud, a hill town known for its spa treatments, yoga and ecotourism, which may include a trip to a monkey preserve. Ringing the island are coral reefs teeming with sea life, making it a hot spot for scuba diving. You can also get a taste of Balinese culture at a gamelan percussion performance or one of thousands of Hindu temples, which feature intricate sculpture and regular festivals.
Jakarta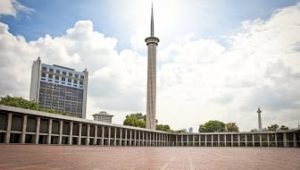 Jakarta, Indonesia's massive capital, sits on the northwest coast of the island of Java. A historic mix of cultures – Javanese, Malay, Chinese, Arab, Indian and European – has influenced its architecture, language and cuisine. The old town, Kota Tua, is home to Dutch colonial buildings, Glodok (Jakarta's Chinatown) and the old port of Sunda Kelapa, where traditional wooden schooners dock.
       Central Medan Merdeka square is the site of the National Monument, or "Monas," a marble obelisk with an observation deck, and the enormous Istiqlal Mosque. The National Museum traces Indonesian history through archaeological relics, statues, ceramics and jewelry. The city has numerous modern malls, and specialist shopping areas such as the antique market, Jalan Surabaya. Taman Mini Indonesia Indah cultural village re-creates traditional houses, stages performances and has several museums. Offshore are the "Thousand Islands," some with beach resorts, some uninhabited, all part of a marine national park.
Bandung
Bandung, capital of Indonesia's West Java province, is a large city set amid volcanoes and tea plantations. It's known for colonial and art deco architecture, a lively, university-town feel and – thanks to its 768m elevation – relatively cool tropical weather. Bandung is also a shopping destination, with fashion outlets clustered along Jalan Setiabudi and Jalan Riau in the Dago district.
Nicknamed the "Paris of Java" during the Dutch colonial period, Bandung retains 1920s and '30s landmarks like the Neoclassical Gedung Sate ("Satay Building"). Now the office of the provincial governor, it has a rooftop resembling the Indonesian skewered meat dish. There's also the art deco mansion Villa Isola and the Sundanese-roofed Ceremonial Hall at the acclaimed Institut Teknologi Bandung. Nearby natural sites include Tangkuban Perahu ("upside-down boat") volcano, with trekking and horseback riding above active craters. There's also the light-turquoise crater lake, Kawah Putih, and Patenggang Lake, surrounded by tea plantations.
Yogyakarta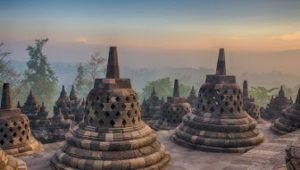 Yogyakarta (often called "Jogja") is a city on the Indonesian island of Java known for its traditional arts and cultural heritage. Its ornate 18th-century royal complex, or kraton, encompasses the still-inhabited Sultan's Palace. Also within the kraton are numerous open-air pavilions that host classical Javanese dance shows and concerts of gamelan music, characterized by gongs, chimes and plucked string instruments.
Local handicrafts like batik and leather goods are for sale in Yogyakarta city's lively Jalan Malioboro neighborhood. The Sonobudoyo Museum displays Javanese art. Taman Sari, a former bathing complex for the sultan, features restored pools and fountains. A longtime center of education, Yogyakarta has a large student population that supports vibrant cafes and clubs. Seeing a traditional shadow puppet performance is another popular nightlife option. Yogyakarta is a gateway to the active Mt. Merapi volcano, a popular hiking destination, as well as the renowned Borobudur and Prambanan temples, both of which date to the 9th century.