Places To Visit in Malaysia
Malaysia is a Southeast Asian country occupying parts of the Malay Peninsula and the island of Borneo. It's known for its beaches, rainforests and mix of Malay, Chinese, Indian and European cultural influences. The capital, Kuala Lumpur, is home to colonial buildings, busy shopping districts such as Bukit Bintang and skyscrapers such as the iconic, 451m-tall Petronas Twin Towers.Popular destinations are Kuala Lumpur, Malacca City, Johor Bahru, Kuching, Kota Kinabalu, Taman Negara, Penang Island and Tioman Island.
Choose your destinations, duration and Submit the Travel Enquiry form. We will create a customised Malaysia Tour Package for you.
Kuala Lumpur
Kuala Lumpur is the capital of Malaysia. Its modern skyline is dominated by the 451m-tall Petronas Twin Towers, a pair of glass-and-steel-clad skyscrapers with Islamic motifs. The towers also offer a public skybridge and observation deck. The city is also home to British colonial-era landmarks such as the Kuala Lumpur Railway Station and the Sultan Abdul Samad Building.
Kuala Lumpur is also known for its shopping and dining, with options ranging from large malls and contemporary restaurants to shophouses and food stalls. The Golden Triangle area's Bukit Bintang district offers designer boutiques, luxury department stores and glitzy retail and entertainment complexes. Small, colorful shops dot Brickfields (Little India) and Chinatown, whose art deco Central Market houses numerous craft sellers. Malaysian arts and history are on view at the National Museum and the Islamic Arts Museum. At the city's northern edge is Batu Caves, natural limestone caverns housing Hindu temples.
Malacca City
Malacca City, is the capital city of the Malaysian state of Malacca. It is the oldest Malaysian city in the Straits of Malacca, having become a successful entrepôt in the era of the Malacca Sultanate. The present-day city was founded by Parameswara, a Sumatran prince who escaped to the Malay Peninsula when Srivijaya fell to the Majapahit. Following the establishment of the Malacca Sultanate, the city drew the attention of traders from the Middle East, South Asia, and East Asia, as well as the Portuguese, who intended to dominate the trade route in Asia. After Malacca was conquered by Portugal, the city became an area of conflict when the sultanates of Aceh and Johor attempted to take control from the Portuguese. Following a number of wars between these territories, Aceh declined in influence while Johor survived and expanded its influence over territory previously lost to Aceh in Sumatra when Johor co-operated with the Dutch who arrived to establish dominance over Java and Maluku Islands. However, due to royal internal strife between the Malay and Bugis, the Johor-Riau Empire was divided into the sultanates of Johor and Riau-Lingga.
Johor Bahru
Johor Bahru, capital of the Malaysian state of Johor, sits at the southern tip of the Malay Peninsula. With a causeway across the Straits of Johor connecting it to Singapore, it's a gateway for exploration of that island nation. On the Johor Bahru's waterfront is Istana Besar, a royal palace built by Sultan Abu Bakar in 1866 that now houses the Royal Abu Bakar Museum.
Inside the museum are artifacts of the sultanate such as fine art, silverware and historical documents. Nearby is Sultan Abu Bakar State Mosque, distinguished by its Victorian architectural style. Notable Hindu temples include Arulmigu Sri Rajakaliamman Glass Temple, a small structure almost entirely covered in colored-glass mosaic tiles. The city's also known for its nightlife and shopping malls, some of which are on Jalan Wong Ah Fook, the central business district's main boulevard. There's also beachfront recreation at Danga Bay and rides at the Legoland theme park just to the west of the city.
Kuching
Kuching, capital of the Malaysian state of Sarawak on the island of Borneo, is a bustling, diverse city of old colonial buildings and modern towers. Along its Sarawak River waterfront are food vendors, shophouses selling handicrafts and an esplanade with views of 19th-century landmarks: The Astana, former palace of the White Rajahs, and Fort Margherita, built to thwart pirates.
Nearby is the contemporary, umbrella-roofed New Sarawak State Legislative Assembly Building. Kuching has many temples, mosques and churches. Museums range from the Sarawak State Museum complex, with art, ethnology and natural history collections, to the feline-themed Cat Museum. Kuching is a popular base for exploring Sarawak's parks and reserves, which shelter endangered wildlife such as proboscis monkeys. Bako National Park offers rugged terrain and walking trails through rainforest and along beaches. The craggy Santubong Peninsula, jutting into the South China Sea, features white-sand beaches and resort areas including Damai.
Kota Kinabalu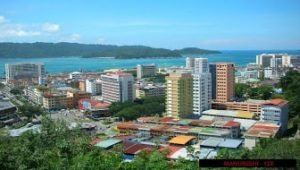 Kota Kinabalu is the capital of Malaysia's Sabah state in the northern part of the island of Borneo. Often referred to as KK, it's a coastal city partly surrounded by rainforest. It's known for its bustling markets, modern boardwalk, beaches and waterfront Kota Kinabalu City Mosque. It is also a gateway to Kinabalu National Park, the home of 4,095m-high Mount Kinabalu.
Tunku Abdul Rahman National Park, made up of 5 major islands off the coast, is home to beaches, coral reefs, tropical jungle and waterfront houses built on stilts. Near the airport, Tanjung Aru is a beach area with dramatic sunsets, plus dining and nightlife. Sabah Museum displays headhunter artifacts and hosts an ethnobotanical garden and a zoo. Visitors can follow boardwalks through protected mangrove forest and bird habitat at Kota Kinabalu Wetland Centre or observe orangutans at Lok Kawi Wildlife Park, which is about 20km south of the city.
Taman Negara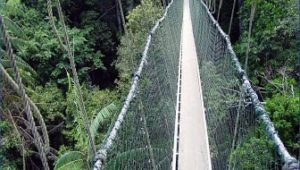 Taman Negara is a vast national park on the Malay peninsula of Malayasia. It encompasses a sprawling tropical rainforest that's said to be 130 million years old. Kuala Tahan, the main entry point, is a base for the nearby canopy walkway, river trips and treks through the jungle to the top of Mt. Tahan. The park is home to tigers, macaques and birdlife, as well as the enormous flowers of the rafflesia plant.
Penang Island
Penang is a Malaysian island off the Malay Peninsula in the Strait of Malacca. In George Town, the capital of Penang state, foreign influences are evident in landmarks like colonial Fort Cornwallis, Chinese clan temple Khoo Kongsi and Indian-style Kapitan Keling Mosque. Other notable religious sites include the Chinese Goddess of Mercy Temple, the Buddhist Kek Lok Si Temple and Hindu Sri Mahamariamman Temple.
Tioman Island
Tioman Island is a mukin and an island in Rompin District, Pahang, Malaysia. It is located 32 kilometres off the east coast of the state, and is some 20 kilometres long and 12 kilometres wide. It has eight main villages, the largest and most populous being Kampung Tekek in the north. The densely forested island is sparsely inhabited, and is surrounded by numerous coral reefs, making it a popular scuba diving spot. There are also a lot of resorts and chalets around the island which has duty-free status. Its beaches have been claimed to be depicted in the 1958 movie, South Pacific as Bali Hai but available evidence suggests this is a false claim. In the 1970s, TIME Magazine selected Tioman as one of the world's most beautiful islands. The island is served by ferries from the Malaysian mainland, Up to 2013, Berjaya Air serviced the island with a propeller plane service from the Changi Airport in Singapore and nowadays, there is only one company operating the route from Sultan Abdul Aziz Shah Airport in Subang, Selangor to Tioman Island. The company are called Systematic Aviation Services, and with a fleet of small single prop CESSNA aircraft, the trip takes around 1 hr 15 minutes.