Places To Visit in Karnataka
Karnataka is a state in southwest India with Arabian Sea coastlines. The capital, Bengaluru (formerly Bangalore), is a high-tech hub known for its shopping and nightlife. To the southwest, Mysore is home to lavish temples including Mysore Palace, former seat of the region's maharajas. Hampi, once the medieval Vijayanagara empire's capital, contains ruins of Hindu temples, elephant stables and a stone chariot.Popular Destinations are Bengaluru, Mysore, Coorg, Nandi Hills, National Parks, Jog waterfalls,Sringeri & Udipi 
Choose your destinations, duration and Submit the Travel Enquiry form . We will get back to you with your customised Karnataka Tour Package
Bangalore
Bengaluru (also called Bangalore) is the capital of India's southern Karnataka state. The center of India's high-tech industry, the city is also known for its parks and nightlife. By Cubbon Park, Vidhana Soudha is a Neo-Dravidian legislative building. Former royal residences include 19th-century Bangalore Palace, modeled after England's Windsor Castle, and Tipu Sultan's Summer Palace, an 18th-century teak structure.
Mysore
Mysore (or Mysuru), a city in India's southwestern Karnataka state, was the capital of the Kingdom of Mysore from 1399 to 1947. In its center is opulent Mysore Palace, seat of the former ruling Wodeyar dynasty. The palace blends Hindu, Islamic, Gothic and Rajput styles. Mysore is also home to the centuries-old Devaraja Market, filled with spices, silk and sandalwood.
Coorg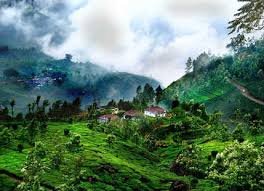 Coorg or Kodagu, as it's officially called, is one of the most accessible and popular hill stations in South India. More than picturesque vistas, Coorg also has a rich historical past.The balance of history and nature is reflected in no place better than in Coorg's administrative capital, Madikeri. This sleepy town commands spectacular views of the Western Ghats and numerous waterfalls, temples, forts, lush forests and plantations, add to its attraction.
Nandi Hills
Nandi Hills are a famous trekking spot. There are several trek routes, through the Nandi hill, to suit the ability and strength of different kinds of trekkers, from beginners to experts. There is a simple rustic way up the hills for beginners. For mid-level trekkers, there is a steep trek up the Channarayana Hills. This is a strenuous route. For the extreme enthusiasts, there is a multi-terrain trek circuit through grasslands, rivers, rocky ways and paved roads.
National Parks
Many national parks, Wild Life Sanctuaries and Bird Sanctuaries are there nearby Bangalore, Mysore and in the region of Karnataka.They are Bandipur National Park, Nagarhole National Park, Bannerghatta National Park, Kali Tiger Reserve, Bhimgad Wildlife Sanctuary etc......These parks are home to Safaries, Tigers, Elephants and Wildlife.
Jog Waterfalls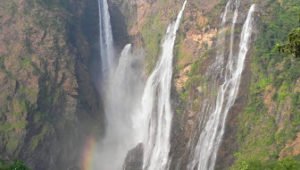 Jog Falls, Gerosoppa Falls or Joga Falls is the 3rd highest waterfall in India located near Sagara taluk, Shimoga district in the state of Karnataka. It is a segmented waterfall which, depending on rain and season, becomes a plunge waterfall.
Sringeri
Sringeri, is a hill town and Taluk headquarters located in Chikkamagaluru district in the state of Karnataka, It is the site of the first maṭha (Sringeri Sharada Peeta) established by Adi Shankara, Hindu theologian and exponent of the Advaita Vedanta philosophy, in the 8th century CE It is located on the banks of the river Tungā and also a historical Temple (1200 years).
Udipi
Udupi, also known as Odipu in Tulu, is a city in the Indian state of Karnataka. It is the administrative headquarters of Udupi District. Udupi is notable for the Krishna Temple and lends its name to the popular Udupi cuisine.