Places To Visit in West Bengal
West Bengal is a state in eastern India, between the Himalayas and the Bay of Bengal. Its capital, Kolkata (formerly Calcutta), retains architectural and cultural remnants of its past as an East India Company trading post and capital of the British Raj. The city's colonial landmarks include the government buildings around B.B.D. Bagh Square, and the iconic Victoria Memorial, dedicated to Britain's queen.Popular destinations are Kolkata, Darjeeling, Howrah, Digha and Sundarbans
Choose your destinations, duration and Submit the Travel Enquiry form . We will create a customised West Bengal Tour Package for you.
Kolkata
Kolkata (formerly Calcutta) is the capital of India's West Bengal stateIt's also a setting for the General Post Office, featuring a monumental rotunda, and the 18th-century Writers' Building, which housed the East India Company's administrative offices. Nearby is the Maidan, a sprawling park with the Eden Gardens cricket stadium, a golf course and the white-marble Victoria Memorial, containing several art galleries. Other notable sites include the Indian Museum, displaying fossils and Mughal antiques, and Kalighat Kali Temple, dedicated to Kolkata's Hindu patron goddess.
Darjeeling
Darjeeling is a town in India's West Bengal state, in the Himalayan foothills. Once a summer resort for the British Raj elite, it remains the terminus of the narrow-gauge Darjeeling Himalayan Railway, or "Toy Train," completed in 1881. It's famed for the distinctive black tea grown on plantations that dot its surrounding slopes. Its backdrop is Mt. Kanchenjunga, among the world's highest peaks.
Howrah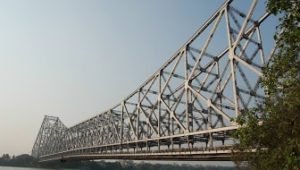 Howrah is located on the west bank of the Hoogli River, it is a twin city to Kolkata. Howrah is the second smallest district after Kolkata. The two cities are connected by four bridges on the river Ganges, these being the Howrah Bridge, the Vidyasagar Setu, the Vivekananda Setu, the Nivedita Setu and ferry services between various jetties.
Digha
Digha is a seaside resort town in the state of West Bengal, India. It lies in East Midnapore district and at the northern end of the Bay of Bengal. It has a low gradient with a shallow sand beach. It is the most popular sea resort in West Bengal.
Sundarbans
The Sundarbans is a natural region comprising southern Bangladesh and a part in the Indian state of West Bengal. It is the largest single block of tidal halophytic mangrove forest in the world.Sundarbans South, East and West are three protected forests in Bangladesh. This region is densely covered by mangrove forests, and is the largest reserves for the Bengal tiger. The Sundarbans National Park is a National Park, Tiger Reserve, and a Biosphere Reserve located in the Sundarbans delta.