Places To Visit in Srilanka
Sri Lanka (formerly Ceylon) is an island nation south of India in the Indian Ocean. Its diverse landscapes range from rainforest and arid plains to highlands and sandy beaches. It's famed for its ancient Buddhist ruins, including the 5th-century citadel Sigiriya, with its palace and frescoes. The city of Anuradhapura, Sri Lanka's ancient capital, has many ruins dating back more than 2,000 years.Popular Destinations are Colombo, Bentota, Kandy, Trincomalee, Nuwara Eliya and Pinnawala.
Choose your destinations, duration and Submit the Travel Enquiry form. We will create a customised Srilanka Tour Package for you.
Colombo
Colombo, the capital of Sri Lanka, has a long history as a port on ancient east-west trade routes, ruled successively by the Portuguese, Dutch and British. That heritage is reflected in its its architecture, mixing colonial buildings with high-rises and shopping malls. The imposing Colombo National Museum, dedicated to Sri Lankan history, borders sprawling Viharamahadevi Park and its giant Buddha.
Bentota
Bentota is a coastal town in Sri Lanka, located in the Galle District of the Southern Province, governed by an Urban Council. It is approximately 65 kilometres south of Colombo and 56 kilometres north of Galle. Bentota is situated on the southern bank of the Bentota River mouth, at an elevation of 3 metres above the sea level. The name of the town is derived from a mythical story which claims a demon named 'Bem' ruled the tota or river bank.
Kandy
Kandy is a large city in central Sri Lanka. It's set on a plateau surrounded by mountains, which are home to tea plantations and biodiverse rainforest. The city's heart is scenic Kandy Lake (Bogambara Lake), which is popular for strolling. Kandy is famed for sacred Buddhist sites, including the Temple of the Tooth (Sri Dalada Maligawa) shrine, celebrated with the grand Esala Perahera annual procession.
Nuwara Eliya
Nuwara Eliya is a city in the hill country of the Central Province, Sri Lanka. Its name means "city on the plain" or "city of light". The city is the administrative capital of Nuwara Eliya District, with a picturesque landscape and temperate climate. It is at an altitude of 1,868 m and is considered to be the most important location for tea production in Sri Lanka. The city is overlooked by Pidurutalagala, the tallest mountain in Sri Lanka. Nuwara Eliya is known for its temperate, cool climate — the coolest area in Sri Lanka.
Pinnawala
Pinnawala is a village in Kegalle District of Sri Lanka and is around 90 km from the capital, Colombo. It is well known for its elephant orphanage.
Trincomalee
Koneswaram temple
Koneswaram temple of Trincomalee (also historically known as the Thirukonamamalai Konesar Kovil, the Temple of the Thousand Pillars and Thiru-Konamamalai Maccakeswaram Kovil) is an Hindu temple in Trincomalee, Eastern Province, Sri Lanka venerated by Saivites throughout the continent. It is built atop Swami Rock, a rocky promontory cape overlooking Trincomalee, a classical period harbour port town.
Shankari Temple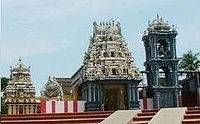 The famed SHANKARI Temple, in Sri Lanka, is one of the 18 Devi Temples (Ashta Dasha Shakti Peethas). Many have heard the Ashtadasha Shakti Peetha Shloka starting with LANKAAYAAM SHAANKARI DEVI.composed by Sri Adi Shankara which means Shankari in Lanka. This Shloka enumerates the list of places of Devi temples which are considered to be part of the 18 Devi Peethas.