Places To Visit In Switzerland
Switzerland is a mountainous Central European country, home to numerous lakes, villages and the high peaks of the Alps. Its cities contain medieval quarters, with landmarks like capital Bern's Zytglogge clock tower and Lucerne's wooden chapel bridge. The country is also known for its ski resorts and hiking trails. Banking and finance are key industries, and Swiss watches and chocolate are world renowned. Popular destinations are Bern, Zurich, Geneva, Lucerne, Interlaken, Zermatt, Lugano, St. Moritz,  Montreux & Grindelwald.
Choose your destinations, duration and Submit the Travel Enquiry form. We will create a customised Switzerland Tour Package for you.
Bern
Bern, the capital city of Switzerland, is built around a crook in the Aare River. It traces its origins back to the 12th century, with medieval architecture preserved in the Altstadt (Old Town). The Swiss Parliament and diplomats meet in the Neo-Renaissance Bundeshaus (Federal Palace). The Französische Kirche (French Church) and the nearby medieval tower known as the Zytglogge both date to the 13th century.
The Gothic Cathedral of Bern has 15th-century stained glass windows and views over the Altstadt's red roofs from its commanding spire. Across the Kirchenfeldbrücke – one of 18 bridges over the Aare – the Bern Historical Museum incorporates an Einstein Museum dedicated to the famous physicist and former city resident. Works by 20th-century artist Paul Klee are the focus of Zentrum Paul Klee, a modern museum with an undulating roof designed by Renzo Piano. The Kunstmuseum spans European art history. Bears, a mascot of the city, can be viewed in their riverside habitat, BärenPark.
Zurich
T
he city of Zurich, a global center for banking and finance, lies at the north end of Lake Zurich in northern Switzerland. The picturesque lanes of the central Altstadt (Old Town), on either side of the Limmat River, reflect its pre-medieval history. Waterfront promenades like the Limmatquai follow the river toward the 17th-century Rathaus (town hall).
Augustinergasse is a colorful old-world street, known for the carved windows of former merchants' houses. Shopping boulevard Bahnhofsstrasse is lined with high-end fashion stores and banks. Niederdorf is a popular nightlife area. The 9th-century Fraumünster church houses Marc Chagall's 1970s stained-glass windows, and the Grossmünster's tower has views of the city, lake and Alps. The Landesmuseum traces Swiss culture over thousands of years. Cabaret Voltaire, a cafe/bar that's still in operation, was the 1916 birthplace of the Dada art movement. Work by modern artists like Alberto Giacometti is on display at the Kunsthaus museum.
Geneva
Geneva is a city in Switzerland that lies at the southern tip of expansive Lac Léman (Lake Geneva). Surrounded by the Alps and Jura mountains, the city has views of dramatic Mont Blanc. Headquarters of Europe's United Nations and the Red Cross, it's a global hub for diplomacy and banking. French influence is widespread, from the language to gastronomy and bohemian districts like Carouge.
A signature site is the Jet d'Eau fountain, which shoots up 140m above Lake Geneva. On the Rhône River's Left Bank, the cobbled Old Town features the Jardin Anglais' landscaped Flower Clock, the Reformation bastion St. Pierre Cathedral and cafe-lined square Place du Bourg-de-Four. High-end Swiss watches and chocolate are staples of the city center's luxury shops. The river's Right Bank is home to pristine parks and museums like the Musée d'Art et d'Histoire, with an expansive collection of European art and archaeological objects. Its Les Pâquis is a neighborhood with funky bistros, nightclubs and boutiques.
Lucerne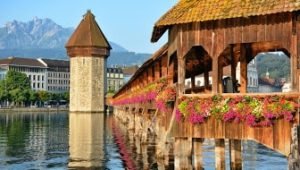 Lucerne, a compact city in Switzerland known for its preserved medieval architecture, sits amid snowcapped mountains on Lake Lucerne. Its colorful Altstadt (Old Town) is bordered on the north by 870m Museggmauer (Musegg Wall), a 14-century rampart. The covered Kapellbrücke (Chapel Bridge), built in 1333, links the Aldstadt to the Reuss River's right bank.
The nearby Rigi and Pilatus mountains offer skiing and hiking. The Museggmauer's 9 medieval watchtowers are connected by walkways and offer views of the lake, mountains and river. Steamships take sightseers out on Lake Lucerne, and a cogwheel railway, believed to be the world's steepest, runs through vertical rock walls up Mt. Pilatus. The Rosengart Collection highlights Paul Klee and Picasso. Architect Jean Nouvel's modernist Kultur und Kongresszentrum (KKL Luzern) is a waterfront center for the performing arts, notably symphonic music.
Interlaken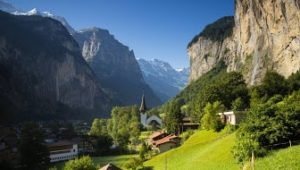 Interlaken is a traditional resort town in the mountainous Bernese Oberland region of central Switzerland. Built on a narrow stretch of valley, between the emerald-colored waters of Lake Thun and Lake Brienz, it has old timber houses and parkland on either side of the Aare River. Its surrounding mountains, with dense forests, alpine meadows and glaciers, has numerous hiking and skiing trails.
Across the Aare River is the village of Unterseen, whose town square has a late-Gothic church with a stone tower. The funicular to the Harder Kulm summit provides panoramic lake and mountain views. A cogwheel train climbs to the Schynige Platte, a high plateau with an alpine botanic garden. Higher still, the Jungfraubahn mountain railway climbs to the Jungfraujoch "Top of Europe" train station at an altitude of 3,454m. Interlaken is also used as a base for boating trips on the lakes and for exploring the traditional high-mountain villages and hiking trails for which the Bernese Oberland is renowned.
Zermatt
Zermatt, in southern Switzerland's Valais canton, is a mountain resort renowned for skiing, climbing and hiking. The town, at an elevation of around 1,600m, lies below the iconic, pyramid-shaped Matterhorn peak. Its main street, Bahnhofstrasse is lined with boutique shops, hotels and restaurants, and also has a lively après-ski scene. There are public outdoor rinks for ice-skating and curling.
Cable cars, cogwheel trains and gondolas serve Zermatt's interconnected ski areas, with more than 350km of pistes below mountain peaks like Klein Matterhorn. Renowned for its high-altitude ski conditions and pistes which lead into Italy, Zermatt also offers summer skiing and snowboarding on the Theodul Glacier. There are over 400km of hiking and mountain-biking trails in the area, including mule traders' routes dating back to the Middle Ages. Climbers planning to ascend 4,478m-high Matterhorn use Zermatt as their base. The Glacier Express train travels from Zermatt through the Alps to St. Moritz, with panoramic views en route.
Lugano
Lugano is a city in southern Switzerland's Italian-speaking Ticino region. Its Swiss-Mediterranean mix of cultures is closely related to that of Italy's northern Lombardy region. This mix is reflected in its architecture and cuisine. The city stands on the northern shore of glacial Lake Lugano, surrounded by mountains. Its main square, Piazza della Riforma, is ringed with pastel-colored, neoclassical palazzi.
The medieval Church of St. Mary of the Angels is renowned for its frescoes by Bernardino Luini. San Lorenzo Cathedral has Renaissance doorways, a baroque interior and views over the red-tile roofs of Old Town, where chic boutiques line pedestrian streets. The Museo Cantonale d'Arte displays regional 19th- and 20th-century art, along with works by masters like Renoir and Degas. A lakefront promenade, the Lungolago, is flanked by trees, sculptures and gardens. Funiculars ascending Monte Brè and Monte San Salvatore lead to panoramic views and a network of hiking and mountain-biking trails.
St. Moritz
St. Moritz is a luxury alpine resort town in Switzerland's Engadin valley. It has hosted the Winter Olympics twice, has the Cresta Run, a world-championship bobsled run made of natural ice, and an outdoor Olympic ice rink. Its frozen lake hosts polo, cricket and even horse racing on ice. Ski and snowboard areas include Corviglia, Diavolezza and Corvatsch, and there are well-groomed cross-country ski trails.
A cable car runs up to the 3,303-metre high Piz Corvatsch with an ice cave and a 9-km ski run down to St. Moritz-Bad. Luxury hotels are concentrated in St. Moritz Dorf, known as "the village." The main street, Via Serlas, is lined with high-end fashion and jewelry boutiques, upmarket restaurants and après-ski clubs. In winter, wooden slope-side chalets serve specialties such as fondue and Nusstorte, a traditional local nut cake. Summer activities include hiking and mountain biking, as well as sailing and windsurfing on Lake St. Moritz. Panoramic trains include the Glacier Express running to or from Zermatt, and the Bernina Express.
Montreux
Montreux is a traditional resort town on Lake Geneva. Nestled between steep hills and the lakeside, it's known for its mild microclimate and the Montreux Jazz Festival, held in July. The town's promenade is lined with flowers, sculptures, Mediterranean trees and grand Belle Époque buildings. Offshore is a medieval island castle, Château de Chillon, with ramparts, formal halls and a chapel with 14th-century murals.
The Casino Barrière, with slot machines and bars, is also home to the Queen Studio Experience, with exhibits about the British rock band and the many albums it recorded here. A cogwheel train from Montreux ascends the rocky peaks of Rochers-de-Naye, where there are panoramic views of the lake and surrounding mountains. From Montreux's marina, modern speedboats and historic steamers serve other Lake Geneva villages. Along the lake, past the town of Vevey, are the vineyard terraces and medieval villages of the Lavaux region.
Grindelwald
Grindelwald, a village in Switzerland's Bernese Alps, is a popular gateway for the Jungfrau Region, with skiing in winter and hiking in summer. It's also as a base for mountain-climbing ascents up the iconic north face of Eiger Mountain. Gletscherschlucht, a glacial gorge just outside Grindelwald, features paths with interpretive signage, waterfalls and striated limestone walls.
Cableways and cogwheel trains connect Grindelwald to the region's winter sports areas, including ski resorts such as First and Männlichen, which offer a wide variety of terrain for beginners and experts. An extensive network of walking and hiking trails in the Grindelwald area includes the gentle, high-altitude route from Männlichen to Kleine Scheidegg, celebrated for its vistas of the Eiger, Mönch and Jungfrau peaks. The Jungfraubahn mountain railway climbs to the Jungfraujoch "Top of Europe" train station at an altitude of 3,454m. Surrounding the village are high alpine pastures. Grindelwald is also known for its nightlife.