Places To Visit in South Africa
South Africa is a country on the southernmost tip of the African continent, marked by several distinct ecosystems. Inland safari destination Kruger National Park is populated by big game. The Western Cape offers beaches, lush winelands around Stellenbosch and Paarl, craggy cliffs at the Cape of Good Hope, forest and lagoons along the Garden Route, and the city of Cape Town, beneath flat-topped Table Mountain.Popular Destinations are Cape Town, Johannesburg, Kruger National Park, Table Mountain, Durban, Knysna and Oudtshoorn.
Choose your destinations, duration and Submit the Travel Enquiry form. We will create a customised South Africa Tour Package for you.
Cape Town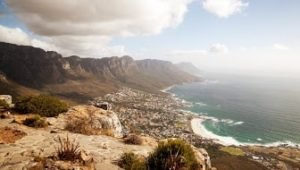 Cape Town is a port city on South Africa's southwest coast, on a peninsula beneath the imposing Table Mountain. Slowly rotating cable cars climb to the mountain's flat top, from which there are sweeping views of the city, the busy harbor and boats heading for Robben Island, the notorious prison that once held Nelson Mandela, which is now a living museum.Hikers' paths crisscross the slopes and also climb the mountain, via forests and manicured lawns at Kirstenbosch National Botanical Garden, the lush wine-producing suburb of Constantia, and steep Platteklip Gorge. In town, the V&A Waterfront is a chic shopping and entertainment district that includes the Two Oceans Aquarium. Historic sites include the Dutch-built, 17th century Castle of Good Hope. City beaches range from ritzy Clifton to Boulders, where there's a penguin colony. Popular out-of-town trips take in Chapman's Peak Drive, with impressive coastal views, and the Cape of Good Hope, where craggy cliffs meet the ocean.
Johannesburg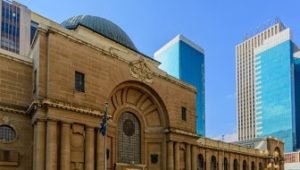 Johannesburg, South Africa's biggest city and capital of Gauteng province, began as a 19th-century gold-mining settlement. Its sprawling Soweto township was once home to Nelson Mandela and Desmond Tutu. Mandela's former residence is now the Mandela House museum. Other Soweto museums that recount the struggle to end segregation include the somber Apartheid Museum and Constitution Hill, a former prison complex.
To the northeast, Herman Eckstein Park encompasses a boating lake and Johannesburg Zoo. The Gold Reef City theme park combines thrill rides with mining history and an underground tour. The Johannesburg Art Gallery features contemporary local work and 17th-century Dutch paintings. Arts on Main is a trendy studio development in a converted industrial precinct, part of the up-and-coming Maboneng district. Upmarket stores cluster at the Sandton City mall, and Sunday's Rosebank Rooftop Market showcases African crafts, food and entertainment.
Kruger National Park
Kruger National Park, in northeastern South Africa, is one of Africa's largest game reserves. Its high density of wild animals includes the Big 5: lions, leopards, rhinos, elephants and buffalos. Hundreds of other mammals make their home here, as do diverse bird species such as vultures, eagles and storks. Mountains, bush plains and tropical forests are all part of the landscape.
Two rivers, the Limpopo in the north and the Crocodile in the south, act as natural boundaries, with several others winding through the park. There's a vast network of paved roads and marked trails that visitors can explore on their own or with guides. Numerous archaeological sites include ancient rock paintings, a Stone Age village and a 16th-century village. Accommodations range from tents to cottages to lodges, but are all traditionally very basic. Private reserves adjoining the park and private concessions within offer luxurious lodges and off-road game-viewing tours.
Table Mountain
Iconic, flat-topped Table Mountain is its centerpiece. The mountain's 1,086m summit affords sweeping views of Cape Town and Table Bay, and is reachable by cableway, bicycle, automobile or on foot. The park is also among the world's richest floral regions.Though it's best known for its namesake mountain, hugely popular for hiking and camping, the park is also famed for its biodiversity. Most notable is its fynbos vegetation, a family of evergreen shrubs that includes Protea, South Africa's national flower. These and thousands of other plant species are in cultivation within Kirstenbosch National Botanical Garden. The park's wildlife ranges from baboons and antelope to Cape cormorants, and, at Boulders Beach, a colony of endangered African penguins. Surfers, anglers and picnickers are drawn to Cape of Good Hope's wild shoreline and towering cliffs.
Durban
Durban, a coastal city in eastern South Africa's KwaZulu-Natal province, is known for its African, Indian and colonial influences. Refurbished for soccer's 2010 World Cup, the seafront promenade runs from uShaka Marine World, a huge theme park with an aquarium, to the futuristic Moses Mabhida Stadium. The Durban Botanical Gardens showcases African plant species
The Golden Mile beachfront is a popular destination for water sports. Durban's surfing spots range from beginner breaks at Addington and South beaches to the challenging Cave Rock at Brighton Beach. Inland, vendors at the Warwick Junction street markets include Zulu shopkeepers offering traditional medicines and Indian food carts selling "bunny chow," a traditional curry dish. The Campbell Collections, a museum and library in a neo-Cape Dutch home, displays African art and artifacts that explore the city's ethnic mix. The Port Natal Maritime Museum, based on 3 vessels in the harbor, traces the city's seafaring tradition.
Knysna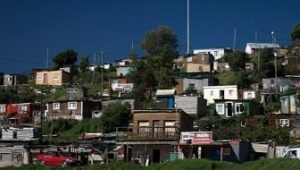 Knysna is a town with 51,078 inhabitants in the Western Cape Province of South Africa and is part of the Garden Route. It lies 34 degrees south of the equator, and is 72 kilometres east from the town of George on the N2 highway, and 25 kilometres west of Plettenberg Bay on the same road
Oudtshoorn
Oudtshoorn is a town in the Klein Karoo area of South Africa's Western Cape. It's known for its ostrich farms and rests along the Route 62 wine route. The central C.P. Nel Museum traces the ostrich-feather boom era and houses a working synagogue. The nearby Cango Wildlife Ranch is a conservation park offering animal petting. To the north, the Cango Caves are a 20-million-year-old network of limestone chambers.